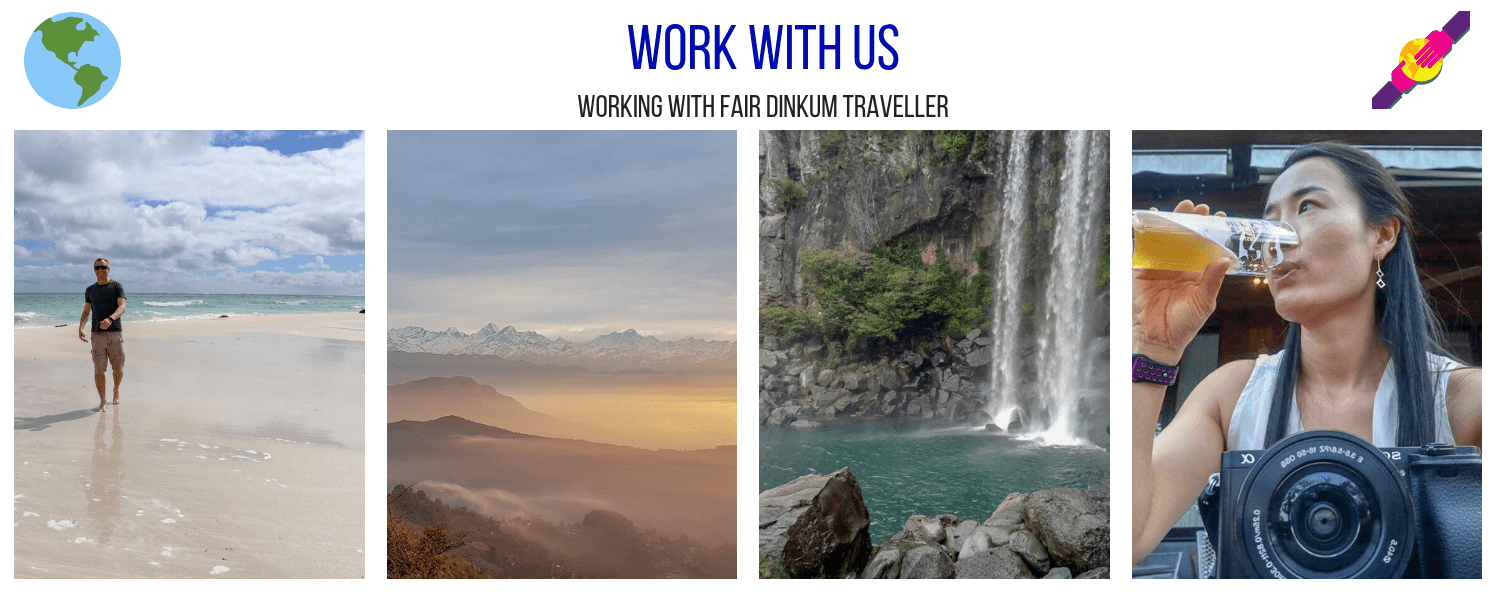 Work With Us at Fair Dinkum Traveller
Are you an experienced travel professional looking to make a difference? Fair Dinkum Traveller is always looking for professionals of all levels who can provide our clients with the highest service.
Get Your Travel Stories Published with Fair Dinkum Traveller
At Fair Dinkum Traveller, we're passionate about helping travellers get their stories heard. We understand that travel isn't just about sun, sand and fun—it's about the experiences you share and the people you meet along the way. As a platform for sharing your unique perspective on travel, we want to hear your stories and see the world through your eyes.
Share Your Experiences with the World
At Fair Dinkum Traveller, you can share your unique travel experiences with a global audience. We're looking for passionate writers to join our team and help us tell the stories of everyday travellers. Whether you have a background in journalism or are new to the world of blogging, we want to hear your voice and discover what you have to offer.
We're always looking for new contributors, so don't be shy! Go ahead and pitch us your ideas for blog posts or articles. Our editorial team is here to help you make the most out of your travel experience and get your stories published.
Expertly Curated Content
Fair Dinkum Traveller is a platform for travel writers to share their experiences. Our expert editors and curators will work with you to ensure your stories, photos, and videos are perfectly crafted and formatted for publication. By submitting your content to Fair Dinkum Traveller, you can be sure that your accounts will be expertly curated and presented in a way that captures the essence of your travels.
Be Part of a Community
When you contribute articles to Fair Dinkum Traveller, you become part of a vibrant community of travellers and writers. Our platform provides a unique opportunity for writers to connect with like-minded people with similar interests and experiences. You'll have the chance to interact and gain insights from others who have travelled to the same places.
Reach a Wider Audience
When you contribute articles to Fair Dinkum Traveller, your stories are shared with a larger audience. Our platform is an ever-growing community of travellers and writers, so your accounts can reach a wider audience than you ever imagined. You can share your experiences with people worldwide and inspire others to embark on their adventures.
Key Features + Benefits Section
Features:
1. Comprehensive range of travel destination articles featuring locations around the world.
2. Expertly crafted content tailored to various interests and needs, such as cultural experiences, outdoor adventures, and more.
3. Detailed advice on preparing for a trip and tips for enjoying a stress-free arrival at any destination.
Benefits:
1. Subscribers to the Fair Dinkum Traveller will receive access to insider information from experts in the travel sphere that they can trust and rely upon when planning their next journey.
2. The comprehensive library of articles helps subscribers save time by quickly finding various reliable sources of advice in one place.
3. With reviews and comments on each article, readers can get personalized insight into potential destinations and connect with other travellers who have had similar experiences worldwide.
Work With Us, Contribute and Contact your Fair Dinkum Traveller
Explore the World with Fair Dinkum Traveller! Get inspired and plan your dream trip today – contact us at fairdinkumtraveller@gmail.com for more information.