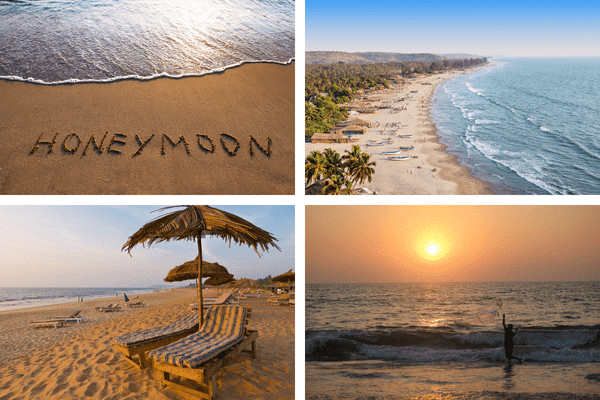 While India offers you a fusion of sand, sun, greens and blues, picking the right honeymoon destination is essential. You might be looking for the aptest honeymoon place. However, there is no such place as perfect or the best. It would help if you always chose honeymoon destinations depending on your and your partner's preferences. 
Some couples love to get lost in the tricky terrains of mountains, while some love to drool in the feeling of azure waters. So, it is time to check your travel personality and pick the destination that soothes your heart. What's more? It's the availability of Treebo hotels in top honeymoon places in India. Check out different places and choose the one that matches your vision for a honeymoon place for your special occasion.
The Top Honeymoon Places in India for a Loving Time
As a newlywed couple, planning your honeymoon can be intimidating. There are so many destinations around the world that promise to give you a fantastic experience. But why look further when India has some of the top honeymoon destinations? From the misty hills and waterfalls of Kashmir to the breezy beaches in Goa, there is a wide range of places to explore!
Whether relaxing on houseboats in Kerala backwaters or getting mesmerized by snow-capped peaks in Himachal Pradesh, India offers something for every kind of traveller. Pick your destination, pack your bags and set off for a romantic getaway you'll never forget!
1. Goa
Okay, let's agree that nothing beats the calming vibes of Goan beaches. Whether you talk about the beach shacks or jaw-dropping nightlife, you and your special one can never get enough of it. Moreover, Treebo Goa Hotels offers the best honeymoon package discount to suit your preferences. 
If you prefer more relaxation, there is nothing better than tanning in the sun as the cold wind gushes by. Enjoy watersports and historical exploration in Goa, and even check out the top museums. Also, remember to collect quirky souvenirs for your loved ones. 
2. Udaipur 
Is your loved one fascinated by heritage hotels and palaces? If yes, Udaipur is your go-to destination for your honeymoon! It is one of the top-rated places in Rajasthan, as it offers an authentic vibe of culture and history. Like Treebo Goa Hotels, you can find multiple Treebo hotels facing lake Pichola for a romantic getaway. 
You can dine by Lake Pichola in various hotels and cafes. Take a serene ride on the lake, and remember to check out the local market for shopping. Udaipur offers a fusion of history and luxury, depending on how you decide to spend your honeymoon. 
3. Manali
Manali is one of the beautiful destinations you must consider for your honeymoon. The combination of winter and Manali is just the icing on the cake! Imagine romancing the snow-covered mountain and sipping hot chocolate with your favourite person. Visit the famous Hadima temple and old market to explore the real Manali.
Along with this, Manali also offers excellent stay options at budget-friendly prices. You can go adventurous by taking part in skiing, trekking and snowboarding. Additionally, the cozy rooms of Treebo hotels add so much warmth to your particular time. So, take this chance and book your tickets now!
4. Kochi
We sure know couples who love to be amidst nature. Kochi is a top destination for such cuties in the heart of Kerala. Surrounded by greens, Kochi offers an enthralling time by the Arabian sea. Moreover, Treebo Kochi Hotels add to the splendour with top hospitality and the best amenities. 
The city combines history and greenery with Hill Palace Museum, Mattancherry Palace and Subhash Bose Park. Also, it is home to one of the biggest malls, LuLu International Shopping Mall, so save your money with Treebo and spend it here! As you explore the finest natural settings, take part in boating and dining by the sea with your other half.
5. Ooty
A vast spread of green never goes wrong for a honeymoon. Situated in Tamil Nadu, Ooty is one of the serene places for a romantic getaway. As you try to spice your relationship with romantic words and photographs, the city offers a perfect backdrop for capturing memories. The quaint hill station makes you unbothered about everything but the mystical beauty of landscapes.
The destination is peppered with a mini adventure Toy train that takes you to view the magical topography of Ooty. Hold hands and walk through the plantations, botanical gardens and unending paths of green. Moreover, just like Treebo Kochi Hotels, you can also find multiple budget-friendly stays here.
6. Gulmarg
When you think of your honeymoon, don't you see the splashes of snow while your body is wrapped in warm jackets? That's precisely the feeling in Gulmarg. With snowfall outside your hotel room, nothing better than soaking your body in the royal jacuzzi. Located in Jammu and Kashmir, Gulmarg has some stunning Treebo hotels offering a combination of serenity and luxury.
Moreover, Gulmarg offers enthralling opportunities to try adventures with your partner. Hold hands tighter as you take the Gondola ride above there. Also, it is fun to watch your loved one fall while trying to ski in the sloped terrain. For added craziness, you can explore the Gulmarg Biosphere Reserve and the Apharwat Peak.
7. Andaman
If the city life and wedding chaos have already drained you, take the flight to reach the island of Andaman. Popular as a honeymoon destination, Andaman offers chill vibes and multiple opportunities to make memories with your particular person. It is filled with various hotels like Treebo Goa Hotels at budget-friendly prices. You can go jet skiing, scuba diving and parasailing if adventure excites you.
Additionally, Andaman is a beautiful destination for clicking worthy photographs. As blue waters surround it, you can find various small stalls selling authentic jewellery and handicrafts made with shells and corals. The scenic sunsets during the golden hour add to the glamour of your holiday. Such a destination makes you feel completely away from the world, just you and your better half in a cozy spot!
As you pick the best honeymoon destination, check out Treebo hotels to avail of discounts in the peak season.
Experience unbeatable hospitality in more than 800 locations in India

Jump on the comfortable linen beds with prompt room service and perfect amenities 

Enjoy complimentary breakfast, Wi-Fi and branded Treebo toiletries 
While a honeymoon destination is essential, your comfort is your top priority. Only when you get a great sleep can you enjoy a day filled with mesmerizing moments in India. 
TREEBO HOTELS IN GOA
Itsy by Treebo – Raj Resort 

Itsy by Treebo – Blue Door Hotel

Treebo Trend Majestic Palms

Treebo Trend Dona Eliza

Treebo Trend Sunheads Panaji 

Itsy by Treebo – La Prince Residency

Treebo Trend Lands END Beach Resort 

Treebo Trend Beach Walk

Treebo Trend Green Park Mapusa

Treebo Trend Morjim Banyan Resort 

Treebo Trend Aquarium Arpora

Itsy by Treebo – Tao Residency Baga

Treebo Trend Green Valley Beach Resort

Itsy by Treebo – Vailankanni Natures Inn

Itsy by Treebo – Plantain Leaf

Treebo Trend Shalom Indus Residency

Treebo Trend Samara Holiday Homes

 Itsy by Treebo – Morjim Pride 
TREEBO HOTELS IN KOCHI 
Itsy by Treebo – Palm Grove by D2V

Treebo Trend Pushpak Service Apartment

Treebo Trend Thoduvas Star Plaza

Treebo Trend Backpackers Inn

Treebo Trend Nirupama Apartment

Itsy by Treebo – Dew Dreams

Treebo Trend Golden Terminal

Treebo Trend Oryx Homes

Treebo Trend Fort Malabar

Treebo Trend The Qasr

Treebo Trend Time Square

Treebo Trend Grand Vistara Airport Suites

Treebo Trend Petals Suites

Itsy by Treebo – Rain Tulsi Stayz

Treebo Trend C J Grande

Treebo Trend Anchor Inn

Itsy by Treebo – Survie Inn