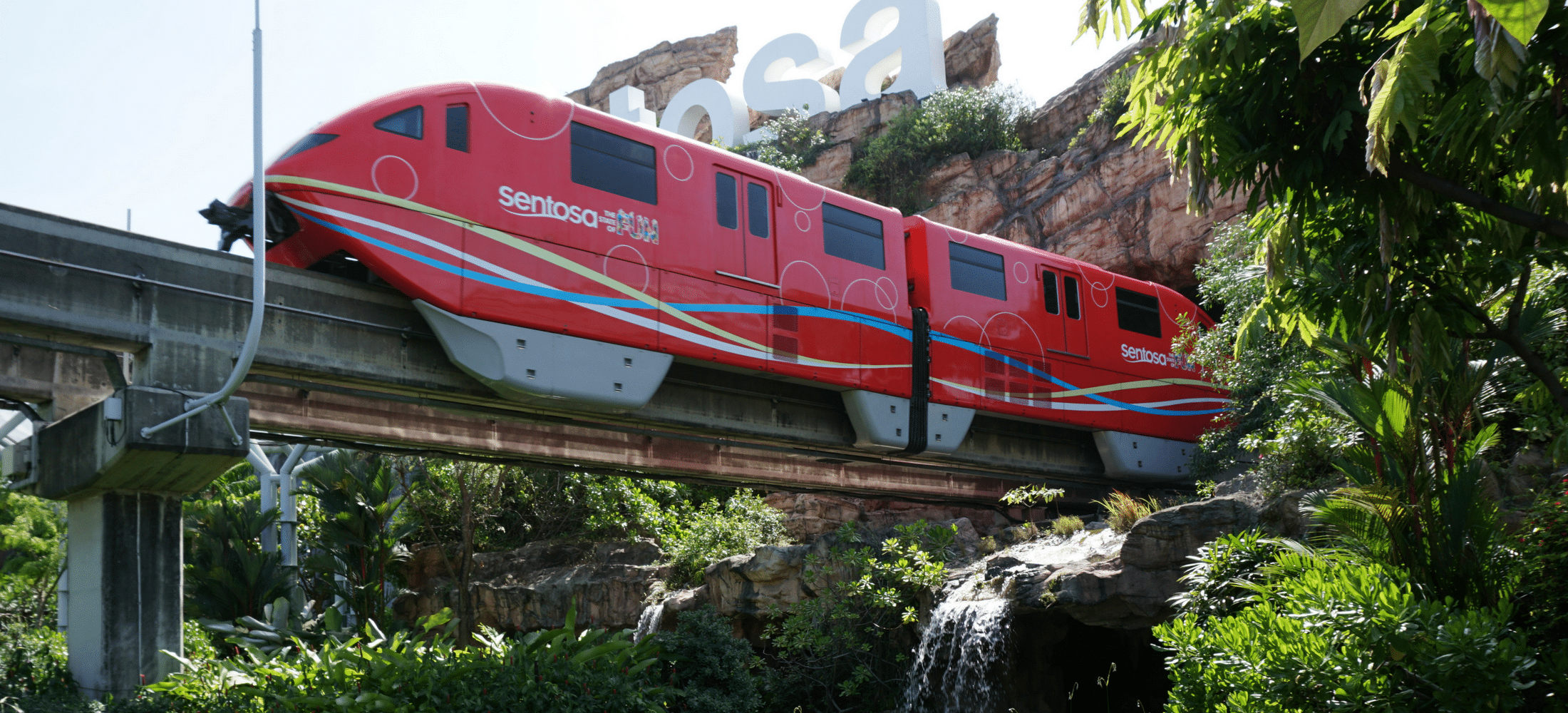 When you're holidaying in Singapore, it's almost a given that you'll find yourself on the stunning Sentosa Island. And it's no wonder why! Sentosa offers many entertainment options that captivate visitors of all ages, making it one of Singapore's most sought-after tourist destinations.
Sentosa Island has something for everyone with its world-class theme parks, pristine beaches, delectable cuisines, vibrant street entertainment, and breathtaking art. Whether you're an adrenaline junkie seeking thrilling rides, a sun-worshipper pursuing the perfect tan, a foodie craving authentic local flavours, or an art enthusiast looking to be inspired, Sentosa promises an unforgettable experience.
So, get ready to immerse yourself in a world of fun and excitement as you explore the wonders of Sentosa Island. Don't miss the fantastic events and vibrant colours that await you in this renowned paradise. Get ready for an adventure like no other on Singapore's famous island!
Are you heading to Sentosa? Check for hotels on Booking.com!
Best Way to get to Sentosa Island in Singapore
If you plan a trip to Singapore, visiting Sentosa Island should unquestionably be at the top of your to-do list. This idyllic paradise-like destination offers a plethora of attractions and delights to explore. To reach this enchanting island there are several convenient and hassle-free ways to get there.
Whether you stroll along the picturesque boardwalk or opt for a scenic cable car ride, the journey to Sentosa Island promises to be an unforgettable experience that will leave you in awe of its natural beauty and vibrant atmosphere.
1. Cable Car
The most popular way to get to Sentosa Island is by taking the cable car from Mount Faber. The cable car ride takes approximately 15 minutes, offering breathtaking harbour and city skyline views. Once on the island, visitors can disembark at Imbiah Lookout Station and enjoy a variety of attractions, including Universal Studios Singapore, S.E.A. Aquarium, Adventure Cove Waterpark, and more.
2. Monorail
Another popular way to get to Sentosa Island is via the monorail system, which runs from VivoCity Mall to Beach Station on Sentosa Island. The monorail ride takes approximately 10 minutes and is an excellent option for those looking for an alternative way to explore the island without worrying about traffic or parking issues.
3. Bus
Visitors can also take a bus from various points in Singapore directly to Sentosa Island. Several bus services run now to Sentosa Island from VivoCity Mall, HarbourFront Centre, Tanjong Pagar M.R.T. station, and other locations around Singapore. The bus ride typically takes 20-30 minutes, depending on traffic conditions.
4. Taxi/Rideshare
Taxis and rideshare services such as Grab are also convenient for getting to Sentosa Island from anywhere in Singapore. A typical taxi ride will cost around SGD$ 20-25, depending on where you are starting your journey. At the same time, ridesharing services will usually be slightly cheaper than taxis, with prices starting at around SGD$ 15-20 for most trips to the island.
5. Ferry
The last option for getting to Sentosa Island is by taking a ferry from Marina South Pier or World Trade Centre Pier in Singapore directly to the island's Waterfront Station or Beach Station, respectively. The ferry ride takes approximately 15 minutes and provides stunning views of the harbour as you cross the waterway towards the island's shores.
6. Walk
The iconic boardwalk from Singapore to Sentosa Island offers more than just access to the island. It's a must-visit experience, with breathtaking views of the Singapore skyline, luxurious yachts at the marina, and colourful fish swimming below. The 710-meter stroll has dining and shopping options to suit every taste and budget. Whether you want a quick bite, refreshing drink, or souvenir, there's something for everyone.
The Best Places to Stay on Sentosa Island
Welcome to Sentosa Island, where your dream tropical vacation comes to life! Here, you can find countless accommodations options that will make your stay memorable—looking for a luxurious resort that offers all the amenities you could ever wish for?
Check out the Sofitel Sentosa Resort for some top-notch pampering. Or perhaps you're interested in something more budget-friendly but still a comfortable stay? The Beach Villas are perfect for travellers seeking a cozy escape that won't break the bank.
Let's not forget about Capella Singapore, an award-winning hotel boasting an enchanting backdrop of lush greenery and a stunning sea view. Whether you're looking for a romantic getaway or a family-friendly escape, Sentosa Island has got you covered.
The best five hotels and Resorts in Sentosa Island. 
1. Shangri-La's Rasa Sentosa Resort & Spa
Shangri-La's Rasa Sentosa Resort & Spa is one of the best hotels and resorts on Sentosa Island. This luxurious resort offers guests a chance to truly relax and unwind with its stunning views of the South China Sea, beautiful gardens, and spacious rooms. The resort also features a range of facilities, including an infinity pool, spa, fitness centre, and restaurants serving international and local cuisine.
2. The Outpost Hotel
The Outpost Hotel is another excellent option for those looking for a hotel or resort on Sentosa Island. Located in the heart of the island, this chic boutique hotel provides guests with easy access to all the attractions Sentosa offers. The hotel features modern rooms with private balconies overlooking the sea and an outdoor pool and bar area where guests can enjoy drinks while enjoying the breathtaking views.
3. Capella Singapore
Capella Singapore is a luxurious 5-star hotel with 30 acres of lush landscaped gardens on Sentosa Island. This award-winning property offers guests an unforgettable experience with its elegant guest rooms, world-class restaurants, two outdoor pools, spa treatments, and private beach club. Guests can also participate in various activities, such as yoga classes, or join guided tours around the island's attractions during their stay at Capella Singapore.
4. Amara Sanctuary Resort Sentosa
Amara Sanctuary Resort Sentosa is a tranquil retreat just minutes from some of Sentosa's top attractions, such as Universal Studios Singapore and S.E.A Aquarium™️ . Guests can enjoy luxurious amenities such as an outdoor pool, spa treatments, fitness centre, and dining options serving international and local cuisine at Amara Sanctuary Resort Sentosa.
5. Siloso Beach Resort
Siloso Beach Resort is an excellent option for those looking for a more budget-friendly hotel or resort on Sentosa Island without compromising quality or comfort. This 3-star resort offers guests comfortable accommodation in beachfront villas complete with private balconies overlooking Siloso Beach and access to various facilities, including two swimming pools, Jacuzzi tubs, tennis courts, a fitness centre and more!
Book your stay today and prepare to make some unforgettable memories in this island paradise!
Entertainment Galore at the Magnificent Sentosa Theme Parks 
Suppose you want to glimpse world-class Theme Parks with adults and kids chomping to enter the gates. Sentosa is filled with incredible yet pricy attractions that will be worth the admission fee and promise an exhausting day full of fun.
Whether it's thrilling rides, slippery slides, magical live shows, or visiting the friends of the sea, you are guaranteed to have a ripping day visiting your favourite park. The only problem will be you'll find it fits all the entertainment into a day, which assures you'll be back on the island for a second day.
A list of fun-filled theme parks on Sentosa Island:
Universal Studios:  Universal Studio offers an abundance of thrilling rides, captivating live shows, and distinctive attractions that are bound to create lasting memories in the hearts of all visitors long after they've departed the island.
Adventure Cove Waterpark: Get ready to dive into an aquatic paradise filled with exhilarating waterslides, exciting tubing adventures, and refreshing wave pools. With so many exciting attractions, Adventure Cove Waterpark guarantees the whole family a day of non-stop excitement and laughter.
Trick Eye Museum: Discover the wonder of the Trick Eye Museum and let your imagination run wild with the captivating illusions that are uniquely Singaporean. Step into a world of endless possibilities and prepare to be amazed by the incredible trick eye art that will transport you to new dimensions of fun, excitement, and creativity.
KidZania Singapore: At KidZania Singapore, kids have the incredible opportunity to catch a glimpse of their future as they embark on exciting adventures and explore various career options. With various immersive activities and hands-on experiences, children can discover their interests, talents, and aspirations in a fun and engaging environment.
Fun in the Sun at a selection of Pristine Beaches
Swim, relax, go for a leisurely stroll, grab a refreshing drink, or indulge in some delicious local cuisine; many great options are awaiting you at the calm and pristine beaches of Sentosa.
Picture this: you bask in the glorious sun as a cheerful tourist, taking in the breathtaking view of white sandy beaches as you walk along the picturesque paths. You can't resist treating yourself to a delectable scoop of coconut ice cream. As you saunter further, you can't help but be enticed by the beach bars offering a variety of cold and refreshing beverages. Eventually, the temptation becomes irresistible, and you eagerly change into your swimwear to dive into the inviting waters for a rejuvenating swim.
Getting to the beaches is a breeze, as you can choose to catch a convenient bus or train or enjoy a leisurely stroll. The day is yours to relax, cocktail in hand, and soak up the sun. Just remember your stylish shades and don't forget to apply sunscreen; the tropical heat can be scorching.
The best beaches on the Island:
Siloso Beach: Situated on the western coast, Siloso Beach boasts an array of inviting swimming spots where you can bask in the soothing waters. Additionally, you can unwind with a refreshing drink at the beachside bar, perfect for enjoying a leisurely day under the sun.
Palawan beach: Palawan Beach is the most centrally located beach on Sentosa Island, making it easily accessible for travellers staying on Sentosa for a short duration. Its prime location, Palawan Beach offers the utmost convenience for visitors seeking a comfortable and hassle-free beach experience.
Tanjong Beach: Located on the eastern side of Sentosa Island, Tanjong Beach offers a delightful escape with its trendy beach club, known to be especially lively during nighttime. Spend your days relaxing by the shimmering waters and enjoy the vibrant atmosphere as the sun sets, creating the perfect backdrop for an unforgettable beach experience.
Indulge in the Pleasures of Exploring Sentosa Island's Vibrant Walking Strips
Immerse yourself in a tropical oasis adorned with lush gardens, captivating art installations, and an exuberant walking strip while enjoying the outdoors of Singapore. Welcome to the heart of entertainment on Sentosa Island, where a plethora of retail outlets, enticing dining options, and charming cafés await to provide respite from the Singaporean heat.
As you wander through this enthralling city-like attraction, you'll find yourself amidst a joyful community of fellow travellers equally enchanted by the captivating sights and musical sounds surrounding them. Absorb the festive ambience of Sentosa Island, embracing the exuberant celebrations that unfold spontaneously.
Even if your time on the island is brief, don't miss the opportunity to spend a couple of hours fully immersed in the captivating atmosphere of Sentosa Island's central district. Each moment spent here will be a cherished memory long after you depart.
Why don't you check out some of the best walking trails on Sentosa Island?
1. Palawan Beach
Palawan Beach is one of the most popular beaches on Sentosa Island and is an excellent place for a stroll. The beach stretches for 1.2 kilometres, so plenty of room exists to explore. Walking along the beach, you can enjoy stunning views of the South China Sea and surrounding islands. You can also spot wildlife like monkeys, monitor lizards, and even wild boar!
2. Merlion Walk
The Merlion Walk is a scenic path from Palawan Beach to Siloso Beach. Along this 2-kilometre route, you will pass by some of Sentosa Island's most iconic landmarks, including the Merlion statue and the Wings of Time show fountain. You will also enjoy beautiful sea views while walking through lush tropical gardens filled with exotic plants and flowers.
3. Tanjong Beach
Tanjong Beach is located on the southern tip of Sentosa Island and offers stunning sea views from its sandy shores. The beach stretches for over 1 kilometre and provides plenty of space for a peaceful stroll or jog along its coastline. There are also several restaurants nearby where you can stop for a bite to eat after your walk!
4. Nature Trail at Imbiah Lookout
If you want something more adventurous than a stroll, why not try the Nature Trail at Imbiah Lookout? This 3-kilometre trail takes you through some of Sentosa Island's most beautiful natural landscapes, including rainforest trails, mangrove swamps, and coastal cliffs. Along your journey, you will encounter various species of birds and other animals, such as macaques and monitor lizards!
Play a Round of Golf at Two World-Class Golf Course on Sentosa Island. 
Sentosa Island stands as a golfer's ultimate paradise in the heart of vibrant Singapore. Immerse yourself in an enchanting experience where sweeping views of the azure South China Sea embrace you as you embark on your golfing journey at not just one but two extraordinary world-class golf courses that grace this island gem.
For the seasoned golfing aficionado and the enthusiastic beginner alike, these exceptional courses cater flawlessly to players of all skill levels. Awaken your senses with a thrilling round at the illustrious Serapong Course, notably acclaimed as the prestigious host of the esteemed HSBC Women's World Championship. Or dare to test your mettle at the awe-inspiring Tanjong Course, thoughtfully crafted by the renowned golf architect extraordinaire Ronald Fream.
After an exhilarating game, indulge in well-deserved relaxation and serenity at the opulent clubhouse, a symbol of refined elegance. Here, delight in an exquisite gastronomic journey as the restaurant tantalizes your taste buds with an array of delectable cuisine perfectly complemented by refreshing beverages. Immerse yourself in the profound beauty of the surroundings, allowing the breathtaking scenery to transport you to a world of utmost tranquillity.
Sentosa Island beckons, a captivating destination that calls out to every golf enthusiast yearning for an unforgettable experience. Prepare to embark on a journey that blends unparalleled natural splendour with thrilling golfing adventures.
Take a step back into History at Siloso. 
Sentosa Island is a living testament to the history of World War II, offering a captivating glimpse into the events that unfolded in Singapore during this tumultuous time. To uncover this fascinating history, visit the island's Western end, where Fort Siloso awaits.
Embark on your exploration from the remarkable Fort Siloso Skywalk, boasting breathtaking vistas of mainland Singapore and the awe-inspiring Reflections by the Bay skyscrapers that seem tantalizingly close across the bay. As you traverse the path meandering through lush rainforests, immerse yourself in the historical remnants of the military defence armoury and secret tunnels, once utilized to guard against the Japanese invasion in 1942.
A must-do experience is the Fort Siloso 1D tour, a comprehensive journey delving into the significant World War II events that unfolded in Singapore. From the lead-up and surrender to the Japanese in 1942 to the Allied attacks that culminated in the Japanese offering in 1945, every detail comes to life with accuracy and depth.
After a satisfying exploration of Sentosa Island, you'll find that one day is not enough to fully appreciate all this enchanting destination offers. Consider extending your stay at one of the island's superb hotels, allowing you to immerse yourself in the full splendour of Sentosa as a tourist. However, it's worth noting that a delightful night's stay comes with a price tag that reflects the island's allure.
You can Check out hotels on Sentosa Island at Booking.com for great deals!
There's a Lot More Happening on Sentosa Island than Theme Parks, Beaches and paradise.
Visitors to Sentosa Island are sure to experience something they won't find anywhere else. From the thrilling rides, gorgeous beaches, and vibrant activities available at theme parks to the exciting nightlife and out-of-this-world outdoor adventures – Sentosa offers something for everyone.
Whether you are seeking a day of excitement or relaxation, there's no shortage of options here. Don't forget the lush, natural beauty that covers some parts of the island. Sentosa is a one-stop destination for travellers looking for an unforgettable experience filled with memories that last a lifetime in paradise.
So what are you waiting for? Make plans today to explore everything this incredible island has to offer!
Check out more pictures of Sentosa Island.